Discover the « LA GRAVE BECHADE » AOP côte de Duras vintage

White wine from the 2019 vintage.
100% Sauvignon Blanc grape variety.
Alcohol content: 12.50% vol.
Traditional winemaking, aged for 9 months in oak barrels.
It has a beautiful golden yellow colour with sparkling reflections. This oak-aged wine reveals spicy and mineral notes. Its richness and fullness add charm to this excellent cuvée with well-integrated oak flavours.
Serve at 10°C, perfect for aperitifs, white meats, and fish.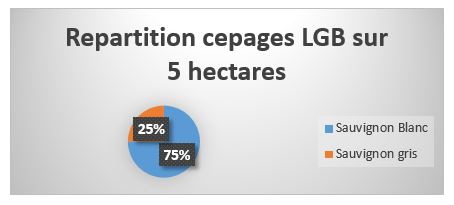 Cabernet Sauvignon Blanc and Gray
Sauvignon Blanc (or Sauvignon Blanc)? is a French grape variety (Vitis vinifera) that is widely grown in France and around the world. There is a variant with pinkish grapes called Sauvignon Gris. It shares the same characteristics, with minor differences in its ability to produce sweet or dessert wines.
Young Sauvignon Blanc wines have a distinctive aroma, quite different from other grape varieties. The main descriptors include broom, boxwood, blackcurrant bud, grapefruit, passion fruit, and in some cases, smoke, roasted meat, or flint.