PERIGORD ATTITUDE – LILLE – Winemakers and Producers Together to Showcase Culture and Terroir.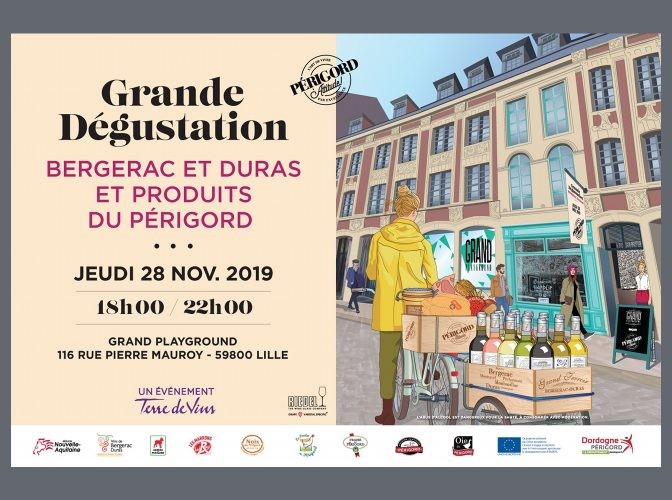 Organized by the magazine "Terre de vin" (https://www.terredevins.com/) and the Interprofessional Association of Bergerac Duras Wines (IVBD: http://www.vins-bergeracduras.fr/decouvrez/presentation-et-histoire/, https://www.facebook.com/BergeracDurasVins/)
Let's look back at the Grande Dégustation (Great Tasting) event that took place in Lille on November 28th, where the team from Château La Grave Béchade was motivated and proud to participate in such an event alongside professionals from the region.
It is always a real pleasure to present our products to curious and passionate individuals and, at the same time, introduce them to our beautiful region, which is often unknown to the general public.
Warmly welcomed in the "Grand Play Ground" space on Pierre Mauroy commercial street in Lille, a beautiful dedicated space for our wines and culinary products for one evening.
More than 500 people attended the event to wander through the various stands showcasing appellations such as Montravel, Pecharmant, Bergerac, Rosette, Saussignac, Côte de Duras, as well as stands featuring poultry, duck, lamb, strawberries, and Périgord walnuts.
Everyone was transported by the delicious blends of flavours that burst in the mouth, a true delight.
It was a wonderful evening for the team at Château La Grave Béchade, filled with discoveries and new encounters.
Below is the link to the article written by Terre de Vins, as well as a slideshow with some photos:
https://www.terredevins.com/actualites/diaporama-le-perigord-a-lille-cest-juste-genial