Une Belle journée avec des partenaires locaux– « La REXpérience » au château La Grave Bechade.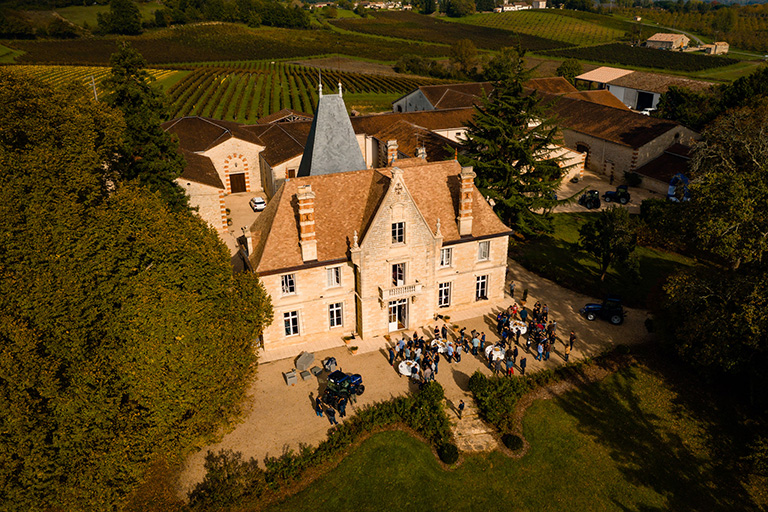 Landini, a leading Italian tractor manufacturer (https://www.landini.it/), presents its latest generations of specialized REX tractors during a worldwide tour. From Spain to Australia, passing through Egypt and Bulgaria.
On October 12th, Château La Grave Bechade had the immense privilege of hosting them during their visit to France, providing an opportunity to unite local partners.
We would like to thank Mr. Olivier Pinasseau, manager of SARL MATIGNON since 2005, a major player in the region through his proximity sales and tractor repair business, for being the intermediary between ARGO TRACTORS, the representative of the LANDINI brand in France (https://www.facebook.com/LandiniTractors.France/; https://www.landini.it/fr/; https://www.argotractors.com/fr/), who were looking for a venue in the region, and Château La Grave Bechade.
The connection was immediate. The logistics, led by Théophane Girard, marketing and network development coordinator, took shape, evolved, and materialized.
The guests discovered the premises, marvelled at the presentation, the setup of the tractors, and the beauty of the estate.
TRAITEUR OSSARD (https://ossard-traiteur.com/; https://www.facebook.com/innovation.traiteur) created a warm and delicious moment during the lunchtime cocktail, offering a service worthy of its regional reputation.
A true cohesion was formed among all the guests, partners, and organizers. Their curiosity awakened… they imagined themselves behind the wheel of these machines… The tests began and continued under the sun.
This successful day ended with Théophane's words: "Beautiful day, warm welcome, excellent organization, and very good caterer. Thank you to Virginie and her team for the Argo France Landini day."
What we received the next day, to our great joy and reward, brought us immense joy and pride:
"So, yesterday we had our Landini day in your beautiful estate. We were fortunate to have bright sunshine welcoming our clients upon their arrival. Your magnificent site was perfectly suited for the planned organization, and we are delighted with the unanimous feedback from our clients, not only those from our area, as I had guests from Gironde, and fellow dealers came with clients from Tarn-et-Garonne, Gers, and Dordogne.
Thank you to David Lançon and his team for preparing the surroundings so that we could occupy all the available space, for providing us with a vineyard plot for demonstrations, and even for highlighting your fleet of Landini tractors.
Thank you to Virginie for her hospitality and presence throughout the day. We truly felt welcomed, and it was very pleasant. Excellent choice regarding the caterer, as I not only saw the desire to support a local service provider but also the commitment to…quality and originality for this wonderful buffet.

Yours sincerely,
Olivier Pinasseau
SARL MATIGNON"